Our Community Chef program celebrates the diverse food traditions represented in our neighborhood by supporting food leaders to share their knowledge and experience through teaching and sharing healthy dishes from their country of origin. Currently, Community Chefs herald from El Salvador, Mexico, the Philippines, Nepal and Bhutan.
Meet our Community Chefs!
Josselyn Eby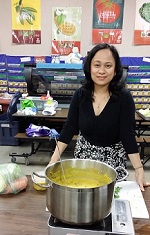 With an ever present smile and stories of growing up in the Philippines coming a mile-a-minute, Josselyn shares more than just her recipes during workshops. While taking apart a Jackfruit in under 3 minutes, she will show you how to use a knife properly, share five delicious recipes that use mung beans and tell you about the time she hosted a pig roast – solo – at the age of eleven. Jocelyn has been hosting energetic workshops and farmers market demonstrations as a Community Chef for over two years.
Blanca Hernandez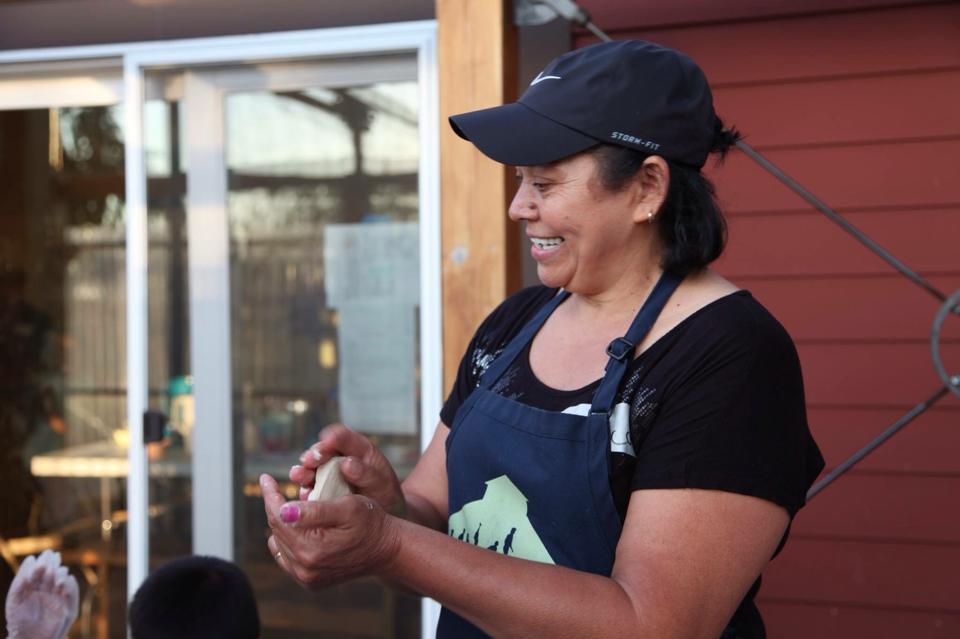 Blanca's El Salvadorian fare is not to be missed; her pupusas stuffed with Pacific Northwest veggies create a new twist. She leads her workshop around a central demonstration table starting with a rapid fire example then breaking down the step-by-step process to make these delights. Around the table she shares stories of cooking with her mother, her journey from El Salvador to Oregon and what foods she is cooking with currently.
Paula Hernandez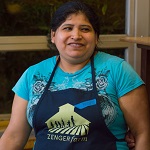 From the mouthwatering spice of peppers and chilies that are staples in her Oaxaca cuisine, to the fire of conversation, there is a tangible heat in the kitchen when Paula hosts a Community Chef workshop. She is a community leader, friend, mother and an advocate for using food as medicine. When she is not working with Zenger, she is working with her children's school to provide healthier food options, and even speaking directly with the Mayor about her community.
Dega Bhattarai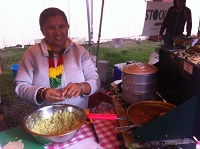 Dega hails from Bhutan and lived in Nepal for many years. She brings together both cuisines seamlessly. There are delicate flavors in each of her dishes, each unique but many created with the same simple ingredients. She moves with quiet grace throughout the kitchen, stopping by at each person to give hands on instruction for each element of the meal. Often accompanying this Community Chef to workshops is her boisterous extended family. They playfully provide instructions, share common Nepalese phrases, and erupt into giggles throughout the night.
Elsa San Juan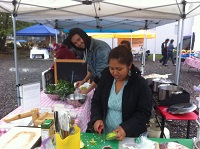 Elsa has long used her location and seasonality in her food. Growing up in Hidalgo, Mexico using what was fresh and seasonal was a way of life. Many options and varieties of produce have changed since her move to Oregon (Elsa has long since mastered kale), yet her sopes and tamales still have the taste of home. Part chef, part motivational speaker, she confidently tells us to not be afraid; cook with all the love you can and your food will taste delicious.
Gloria Lan-Yim
Gloria Yan-Lim is a Certified Health Coach and loving mother of two. She decided to become a health coach to fulfill her passion of working with busy, stressful women to develop strategies to increase energy, reduce with and improve skin condition so the clients will have more productive lifestyle , regain their self-confidence and feel great. Gloria leads workshops on nutrition and offers individual health and nutrition coaching.